Emergency Dental
We prioritise emergency dental and will treat your condition as quickly as possible

If you're experiencing a dental emergency, CBD Dental is here to help relieve your pain, address your symptoms, and treat the issue so you can get back to normal as quickly as possible. We are open Monday to Friday every week from 8am to a minimum of 5pm each day.
Whether your dental emergency involves painful toothache, a chipped or broken tooth, a knocked-out tooth, or a lost filling, our expert dental team will provide you with the emergency dental treatment you need.
When to make an appointment with an emergency dentist
An emergency dentist can help with a variety of dental emergencies, such as the following:
A chipped or broken tooth
A persistent or very painful toothache
A lost filling
A loose or knocked out adult tooth
Emergency tooth extraction
Broken braces
In the case of toothache, it's important to visit us as soon as possible, as the expertise of a dentist is generally the only solution to alleviate and address the issue. It's essential to seek help from an emergency dentist if:
The pain has lasted one to two days
The pain is particularly severe
You have a fever or earache
A tooth has been damaged or knocked out
Swelling accompanies pain
Seeing an emergency dentist in these cases is vital to prevent infection from spreading to the skull, face or even, in extreme cases, the bloodstream.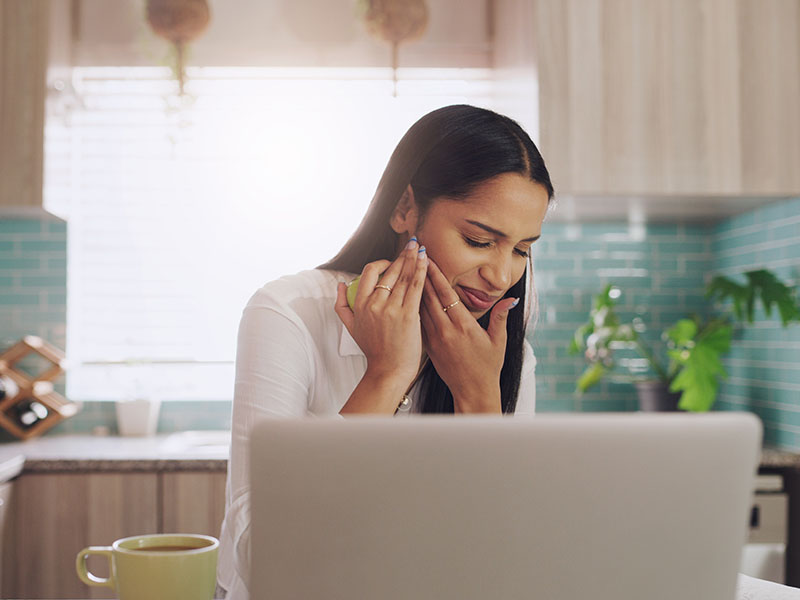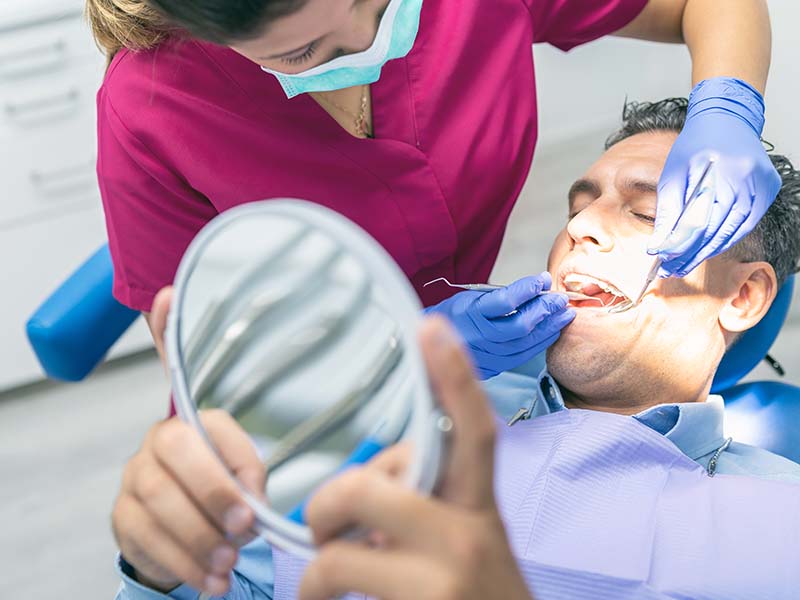 Emergency dentistry will almost certainly be necessary if your toothache is neglected for too long, as dental pain can be an indication of an underlying condition and will usually worsen when left untreated.
At CBD Dental, we prioritise dental emergencies and will treat your condition as quickly as possible.
What does emergency dentistry involve?
Depending on the nature of your dental emergency, your dentist will undertake the necessary treatment to alleviate any pain or discomfort, evaluate the condition for accurate diagnosis, and then treat or develop a treatment plan to address the cause of the emergency.
Treatment may involve one of the following:
Antibiotics: These may be prescribed if the jaw is swollen or you have a fever.
Restoration: We can often repair a damaged tooth using a dental crown or filling.
Root canal: This might be required if the tooth root is infected.
Tooth extraction: If the painful tooth is beyond repair, an extraction may be necessary.
The benefits of emergency dental
Emergency dental services can be beneficial for a number of reasons. Seeing an emergency dentist can help with:
Reducing and managing pain
By diagnosing the cause of pain, your dentist can take the required action to minimise your discomfort and treat the issue.
Minimising damage
Addressing your dental emergency as soon as possible can help to minimise any damage to the tooth, gums and your general oral health.
Avoiding higher costs and more complex treatment
When left untreated, dental emergencies can often require more in-depth treatment further down the line, resulting in higher costs and lengthier treatment times. For example, if your tooth is knocked out, emergency dental treatment can reattach it rather than losing the tooth altogether and needing to replace it with a dental implant or bridge at a later stage.
Need to see an emergency dentist for an urgent dental issue? Get in touch immediately and our friendly team will ensure you receive the treatment you need as quickly as possible.